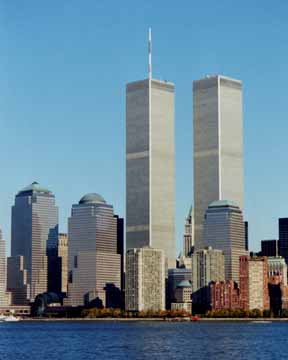 As I write this, it is almost September 11, in the United States. In most of the world it already is September 11.
For my generation, knowing where you were when the first plane hit was to my parents "What were you doing when JFK died?"
I was working in a newsroom and saw it played out in real time. Several hours later- our department found out that one of our own- someone who was meeting a client at Windows of the World for a breakfast meeting was missing along with two other people from out company who were also there for the same breakfast meeting..
By the time the Pentagon and Flight 93 happened, I was comfortably numb, thinking it was just a bad dream and I was going to wake up.
I still recall my manager taking a phone call from his parents asking if anyone has seen him. As I was getting ready to leave news on Building 7 falling was breaking and i worked overtime. Somewhere during the day, I called my sister who works in the city to make sure she was able to get out safely and arrive back to her apartment. She had a view of the Empire State Building from the Jersey side, and could see smoke.
Several days later I was in the city and to this day, if I close my eyes I can see the missing posters in Port Authority, on every streetlamp. And the flags. Times Square was hardly breathing, people were moving slowly and people were stopping to look at the missing signs. People were talking to each other, a rarity in a city which is noted for it's rudeness.
Two weeks before, I was in the city with friends of mine visiting from London on a 24 hour flight lay over. We went to the Empire State Building and A- took a picture of me and his daughter from the observation deck there. In the background were the twin towers glowing in the sunlight. I still have that picture. I never knew it would be the last time I would ever see the World Trade Center.
So on today, September 11, when the world stops for a moment to remember that awful moment where time stood still and we became fixated to the news on Tv, I remember BK and hope that wherever he is now, he is at peace. He and all the others who died on that beautiful cloudless blue morning.
ETA: When I originally posted this on late Tuesday night, i thought Wednesday was the 11th. I made a mistake, Wednesday is the 10, Thursday is the 11. Forgive me for posting this a day early...